Course Registration Currently Closed:

Please complete
this short form
to be notified when registration is open again!
Hurry! Registration Only Open for June!
20% OFF SUMMER SALE!
JUST USE DISCOUNT CODE "SUMMER22" AT CHECKOUT!
Using Healthcare Simulation to Improve Medication Administration Safety
Reg. Deadline: OPEN

Level: Intermediate

RN CE Contact Hours: 5

Unlocks: Immediately


Method: Lecture/Slides

Study time: 6+ hours

Course Access: 3 Months

Includes: 2 Sim Scenarios

Guarantee: 30-Day $ Back
Learning Objectives:
Identify the current sources and types of medication administration errors, as well as the options for reporting such errors as a means to improving practice.

Describe how human simulation-based learning can be used to improve patient safety during the medication administration process by training staff and identifying potential system errors.

Apply evidence-based simulation theory and practice to create scenarios that enhance medication administration safety.
Instructor:
Dr. Kim Baily, PhD, MSN, RN
Objective: Provide Healthcare Simulation Tools & Resources to Enhance Medication Administration Safety.

Summary: This limited time only 6+ hour course is designed to help clinical educators learn how to best identify, design, integrate and assess the use of clinical simulation when training for medication administration. Alarming error statistics and the need for improved medication administration practices are demonstrated, with the knowledge, tools and resources provided to begin addressing those concerns. Additionally, the course includes a breakdown of innovative clinical simulation technologies effective in providing med admin training and 2 simulation scenario templates!
Nursing CE Certificate Included
Download a certificate of completion after finishing the course!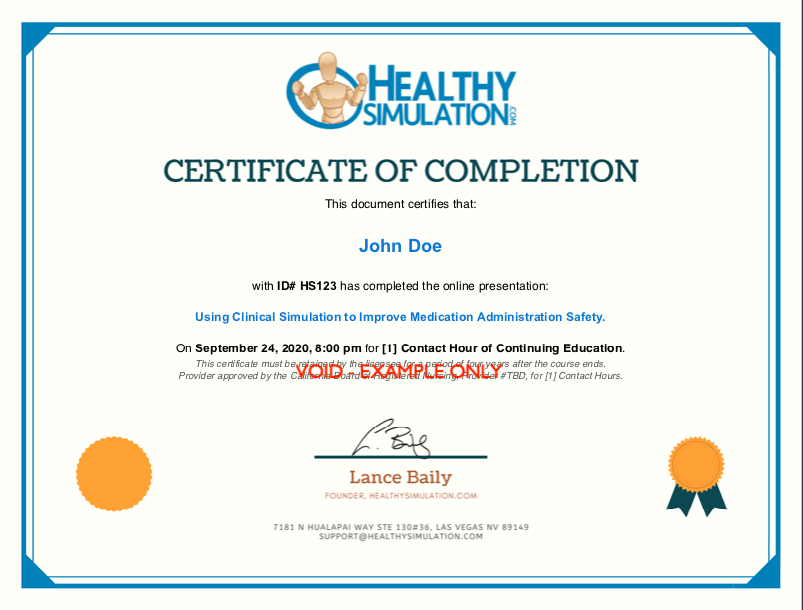 HealthySimulation.com is accredited by the State of California DCA Board of Registered Nursing as a Continuing Education Provider #CEP17566.
Meet the Primary Instructor:
Kim Baily, PhD, MSN, RN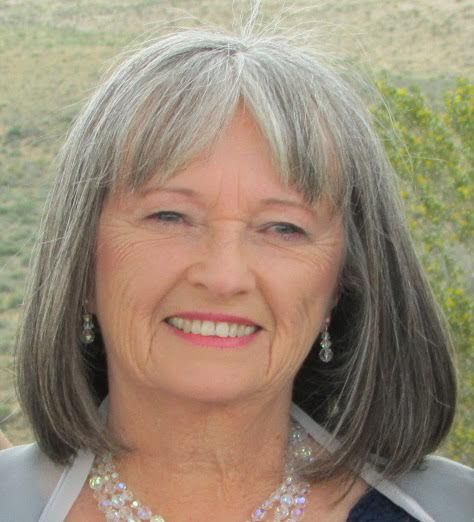 Dr. Kim Baily, MSN, PhD, RN has had a passion for healthcare simulation since she pulled her first sim man out of the closet and into the light in 2002. She has been a full-time educator and director of nursing and was responsible for building and implementing two simulation programs at El Camino College and Pasadena City College in Southern California.

Dr. Baily is a member of both INACSL and SSIH. She serves as a consultant for emerging simulation programs and has previously chaired Southern California Simulation Collaborative, which supports healthcare professionals working in simulation in both hospitals and academic institutions throughout Southern California. Dr. Baily has taught a variety of nursing and simulation-related courses in a variety of forums, such as on-site simulation debriefing workshops and online courses. Since retiring from full time teaching, she has written over 100 healthcare simulation educational articles for HealthySimulation.com.

Disclosures: Dr. Baily writes for HealthySimulation.com
Identify
Identify the current sources and types of medication administration errors, as well as the options for reporting such errors as a means to improving practice.
Review
Discuss various evidence-based nursing standards and assessment strategies to improve medication administration patient safety outcomes.
Develop
Apply evidence-based simulation theory and practice to create scenarios that enhance medication administration safety.
Expand
Review the latest clinical simulation technologies available to improve medication administration training.
It was great content, and a good reminder of many of the advantages of simulation in healthcare safety. Practical application of information with the research and educational foundations explored. Thank you!
-Marcia Donley MSN, RN, Sim Nursing Instructor at Central Community College
Full Course Abstract:
According to the National Institute of Health, 1.5 million people are harmed by medication errors every year in the United States with an estimated 8000 people dying from those errors and at an estimated cost of $3.5 billion. This course will explore the causes of medication errors and will outline current national standards of best practice for medication administration such as those issued by The Joint Commission and those included in the National Patient Safety Goals. Learners will have the opportunity to identify medication errors within their own home clinical or academic institutions and to identify how these are reported and responded to.

Following the standards of the International Nursing Association of Clinical Simulation and Learning (INACSL) and lessons from Translational Science, simulation-based education will be introduced as a method for mitigating practice gaps in medication administration. Learners will apply these guidelines to create detailed simulation scenarios based on the nursing process and other current best practice guidelines.

Two detailed scenarios with supporting documents are offered as part of the course. The course consistently focuses on how simulation can identify practice gaps and improve patient safety. Emphasis is given to the role that simulation plays in risk management and patient safety systems within hospitals and academic settings rather being limited to a simple role as an educational strategy.

Additional Recorded Q&A Session Included!

Two Simulation Scenario Templates Files Included:
Chest Pain/Nitroglycerin Medication Administration
Metoprolol and Lasix for Post Op Patient Medication Admin

Additional Medical Simulation Vendor Demo Course Material:
An additional bonus lesson by the guest speaker will provide a comprehensive breakdown of the various types of medical simulations products which train for medication administration safety, including simulated medication, simulated med carts, and simulated EHRs. Learners will gain valuable insights into the products and services which can best support their clinical simulation program's med admin safety training. This content is not eligible for CE Contact Hours.
Earn 5 Contact Hours of Nursing Continuing Education!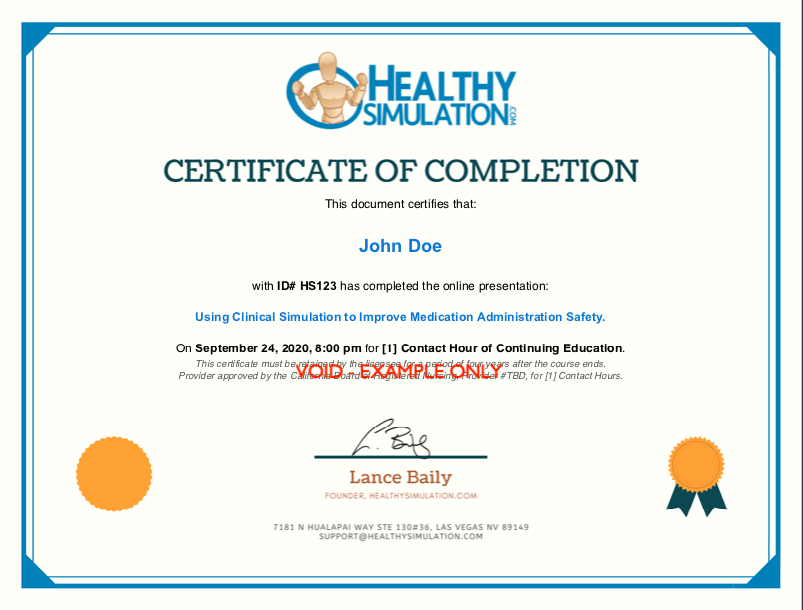 HealthySimulation.com is accredited as a provider of continuing nursing education by the State of California Department of Consumer Affairs License #CEP17566.
State of California Nursing CE Provider
Get Nursing Continuing Education Contact Hours to continue your professional development!
Instantly download following CE completion criteria below.
Number of contact hours provided listed above in "Presentation Information".
CE Certificate Completion Criteria
Attend the entire activity.
Submit a completed evaluation tool.
Electronically download your certificate.
(Transcripts are only available via electronic download).
7 Modules, 6+ Hours

5 RN CE Contact Hours

Lessons in Video & Audio

2 Simulation Scenarios

1 Recorded Q&A Session

3 Months of 24/7 Access

Learner Discussion Group

30-Day Guarantee

1 Hour of Vendor Demos

Complete Access
As soon as the course payment is provided, you will immediately gain access to all the online course materials and engage with lessons at your own pace -- we make it easy!
Anywhere, Anytime
Watch from any desktop, tablet or smart phone device from anywhere in the world -- as long as you have an internet connection! No special software needed, just your up to date web browser and zoom!
See the Entire Course Curriculum Below!
Additional Course Reviews:
Buy Before the Countdown Ends


And Get a 1-Month
Webinar Subscription FREE!
Maximize Your Training!
Purchase this course in the next 24 hours and also receive 1-month's complimentary access to HealthySimulation.com's webinar subscription service.

Start your subscription today and receive immediate access to over 70 medical simulation webinars which includes our entire library of recorded presentations, as well as all the upcoming live events scheduled to come this next month.
Satisfaction Guaranteed!
30-Day Money Back Guarantee:
HealthySimulation.com believes strongly in providing you with a meaningful and impactful resource. If you are not satisfied with this webinar for any reason, simply email us requesting a refund within your first 30 days and we'll refund your money -- no questions asked!
Guaranteed Security using one of the most advanced encrypted systems on the market.
The information in this page is being processed and encrypted securely using industry-leading encryption and fraud prevention tools.
Meet the Guest Speaker:
Lance Baily, BA, EMT-B
Founder / CEO - HealthySimulation.com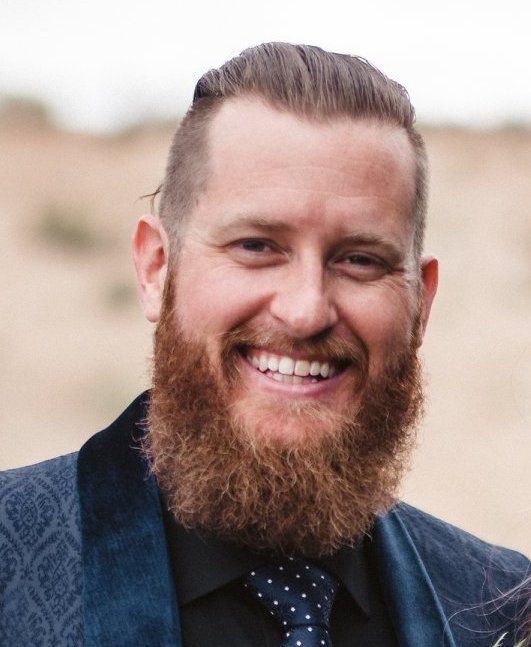 The son of course instructor Dr. Kim Baily, Lance W. Baily, BA, EMT-B is the Founder / CEO of HealthySimulation.com, the world's leading medical simulation resource website which now supports upwards of 35,000 healthcare professionals a month. As an experienced entrepreneur, digital media producer and administrative professional, Lance has the background and the experience necessary to help guide the healthcare simulation industry from early-adopter to early-majority.

Lance is also the Founder of SimGHOSTS.org, the leading 501(c)3 non-profit organization dedicated to supporting healthcare professionals operating clinical simulation technologies which has organized over twenty hands-on training conferences around the globe since 2011.
His new co-edited Book: "Comprehensive Healthcare Simulation: Operations, Technology, and Innovative Practice" provides 400 pages of in-depth articles supporting the technical integration of healthcare simulation in any sized program.

Formerly he served as Director of the Nevada System of Higher Education's Clinical Simulation Center of Las Vegas, Simulation Technician for the LA Community College District, and volunteer Fire-Fighter, after receiving his BA in Film and Digital Media Production and working on Hollywood production sets. He currently lives with his wife in Las Vegas with their newborn baby girl and two dachshunds.
Disclosures: Founder/CEO/Owner of HealthySimulation.com, Founder of SimGHOSTS.org
Frequently Asked Questions
Does this course provide Continuing Education contact hours?
This particular HealthySimulation.com course DOES provide 5 Contact Hours from the California Board of Registered Nurses Continuing Education Provider License #17566, after you complete the video presentation and the required feedback survey. Upon completion you will be able to download the certificate of completion for 5 Contact Hours.
Registration is currently closed, what should I do?
Please complete this
short form
to be notified the next time this course is available for registration.
Can I share access to this course with others from my institution?
Each enrollment is limited to the person who registered it, and any downloadable certificates will only be available in the name of the person who purchased access. However, the buyer is welcome to invite others within their immediate team to join them in watching the course presentation together at the same time.
What technology do I need to watch the course?
Usually just an up-to-date web browser such as Google Chrome and a strong internet connection is all that is required. However, some users may need an up-to-date Zoom client to watch live Q&A sessions. Presenters will need the latest Zoom Client and their presentation display software.
What if the course does not meet my expectations?
All HealthySimulation.com LMS content has a 30-Day Money Back Guarantee. If any product does not meet your expectations, simply email us at
support@healthysimulation.com
and we will provide a full refund without exception!
What is your refund policy?
Our refund policy for our various services and offerings are as follows:
30-Day Money Back Guarantee:
If for any reason you're not satisfied with your purchased product, simply e-mail
support@healthysimulation.com
during your first 30 days and we will refund your money, no questions asked.
Monthly & Annual Subscriptions: Following the first 30 days, subscriptions may be canceled at any time, and customers will have access to their account until the subscription period concludes. No refunds will be provided following the first 30 days.
Where can I read more about your official legal notices and requirements?
I still need help, how can I contact your support team?
When is the content for this course available?
The course materials will be immediately available following a confirmed online payment.